Details
Date:
August 29
Time:
06:00 pm - 09:00 pm
Click to Register:
Click to Register
Venue
Zephyr Grill & Bar Brentwood
613 1st St, Suite 100
Brentwood, CA, United States, 94513
Join us Tuesday, August 29nd @ 6PM for a Winemaker's Dinner celebrating the wines of
BECKY BLOOMFIELD & BLOOMFIELD VINEYARDS.
Becky Bloomfield is the heart and soul of Bloomfield Wines.
The Bloomfield family has been farming in the Contra Costa County since the 1940's, and is entering our 4th generation of family farming.
Our first vineyard of Chardonnay and Merlot was planted in 1996. Soon to follow were two other vineyards consisting of Chardonnay, Pinot Grigio, Riesling, Sauvignon Blanc and Viognier. Contra Costa County is known for its history of rich agriculture and has been producing wine grapes for over 150 years.
Bloomfield Vineyards has been producing award-winning wines since 2004, and is now embarking on its 18th vintage.
Enjoy an exclusive 5-course dinner with a menu created by Executive Chef Jesus Martinez.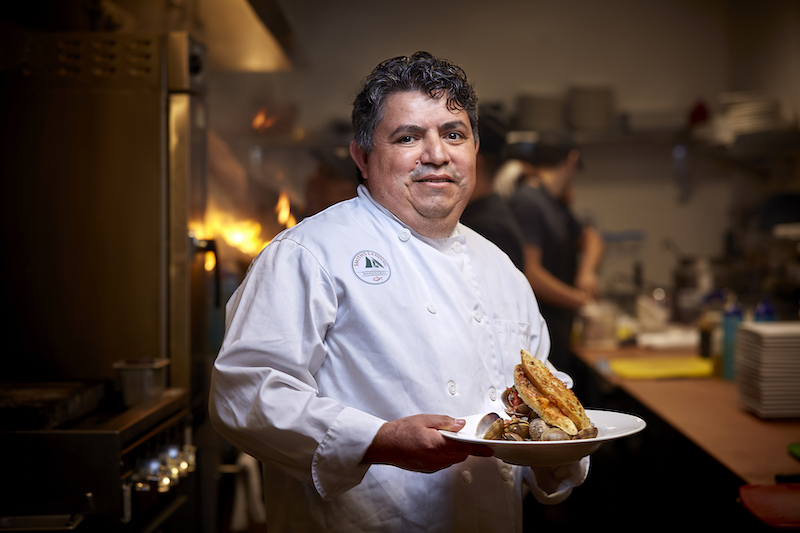 Chef Jesus graduated from culinary school in Mexico and has been in the restaurant industry for 23 years. He also oversees the menu at Zephyr Grill's locations in Livermore and Brentwood. With winemaker's dinners such as these, Chef Jesus says he enjoys the "challenge of finding the flavors and dishes that pair with the wines."
One of the most versatile chefs in the area, Jesus enjoys regularly changing up the menu at all three restaurants he oversees, and owners Lynn and Randy Tei say "he does it all" — Italian cuisine, Chinese, American, French, Asian, and Mexican. For special events like the winemaker's dinners, "he does a fantastic job bringing out the complex wine notes with his dishes," Lynn said. A "foodie" at heart, when Jesus isn't working, he lovingly tends to his herb garden and fruit trees. Over the years, Chef Jesus has collaborated with several local wineries, including Bloomfield Vineyards, Petersen Vineyards, and McGrail Vineyards, to name a few.
$95.00 PER PERSON EXCLUSIVE OF 20% AUTO GRATUITY AND SALES TAX.
$19.00 – 20% Auto Gratuity
$9.98 – Sales Tax
$123.98 – GRAND TOTAL
FIRST COURSE – Butternut squash soup with a coconut milk panna cotta topped with a herb garnish & a drizzle of balsamic glaze. Paired with 2022 Bloomfield Vineyards Chardonnay
SECOND COURSE – Pan-seared halibut with an heirloom tomato carpaccio, melted eggplant, shrimp basil beignet & citrus vinaigrette. Paired with 2022 Bloomfield Vineyards Devil's Daughter
THIRD COURSE – Red wine braised duck breast with Moroccan chickpeas, tagine-herb couscous pearls & pan sauce. Paired with 2020 Bloomfield Vineyards Merlot
FOURTH COURSE – Short rib wellington with mushroom duxelles, prosciutto, potato croquette & a red wine reduction. Paired with 2021 Bloomfield Vineyards Cabernet Sauvignon
FIFTH COURSE – Babas au Rhum with Bloomfield cherry compote, and an Anglaise rum caramel sauce. Paired with 2022 Bloomfield Sauvignon Blanc